Using only the fractions of a field shell, the blue line in fig.1 and col. c of the table show how the fractions of force and anti-force combine to produce a negative (surface) charge on the right of the graph. Note that none of the wave fractions in cols. a or b are negative; indicating that there is no true negative fractional wave in reality. The inverse of a negative charge (the positive charge) is shown in red (col. d in the table). The similarity with a Hysteresis loop occurs because both charge wave and Hysteresis wave are caused by the application of an external wave force.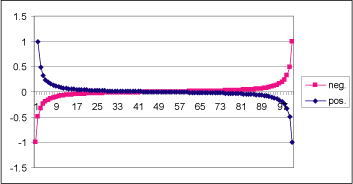 Fig.1
Fig. 1a illustrates charge of field nucleus and field shell. The shell field wave structure creates an opposite charged wave structure in the nucleus, continuing the Hysteresis pattern.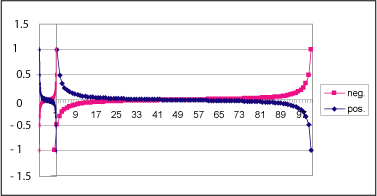 Fig. 1a
Combining positive and negative charged particles creates a well that contains the anti-vacuum substance, and bonds the opposite charges together. Compression of the waves creates a repulsive force, Stretching the waves creates an attractive force. Because the wave patterns of all particles in infinity (including gravitons) are interlinked, the force of every particle affects the force of every other particle for an infinite distance. The force varies with compaction and gives rise to the terms Strong force (nuclear compaction), Electromagnetic force (field shell compaction) and Gravity (external [graviton] field compaction). The Weak force is a secondary force. In reality all forces are variations on the relationship between vacuum force and the density of the anti-vacuum force.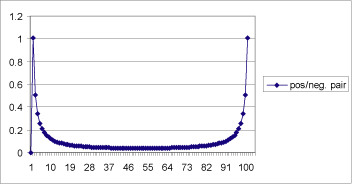 Fig.2
Hysteresis loop
The creation of a Hysteresis loop is currently described in the following manner:
When a ferromagnetic material is magnetized in one direction, it will not relax back to zero magnetization when the imposed magnetizing field is removed. It must be driven back to zero by a field in the opposite direction. If an alternating magnetic field is applied to the material, its magnetization will trace out a loop called a Hysteresis loop.
Fig. 3 and the table below fig. 3 show that a Hysteresis loop is the product of a two fields with the same radii and a different number of elementary particles. This creates a difference in mass and force and, in a moving field; a difference in energy.
These are the same fractional waves that are found in gravity fields, they demonstrate that the four forces are a product of the same wave system and different field densities.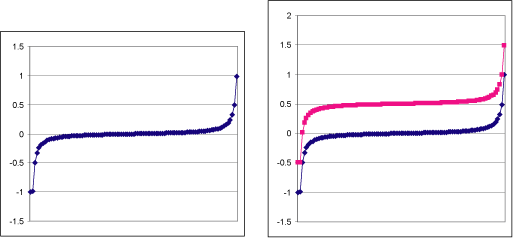 Graph of col. d Graph of cols. d and e
| | | | | |
| --- | --- | --- | --- | --- |
| | reversed | neg. | pos. | field with |
| | reversed | field | field | more |
| frac. | frac. | (a-b) | (anti-c) | particles |
| a | b | c | d | e |
| | | | | |
| 0 | 0 | 1 | -1 | -0.5 |
| 1 | 0.01 | 0.99 | -0.99 | -0.49 |
| 0.5 | 0.010101 | 0.489899 | -0.4899 | 0.010101 |
| 0.333333 | 0.010204 | 0.323129 | -0.32313 | 0.176871 |
| 0.25 | 0.010309 | 0.239691 | -0.23969 | 0.260309 |
| 0.2 | 0.010417 | 0.189583 | -0.18958 | 0.310417 |
| 0.166667 | 0.010526 | 0.15614 | -0.15614 | 0.34386 |
| 0.142857 | 0.010638 | 0.132219 | -0.13222 | 0.367781 |
| 0.125 | 0.010753 | 0.114247 | -0.11425 | 0.385753 |
| 0.111111 | 0.01087 | 0.100242 | -0.10024 | 0.399758 |
| 0.1 | 0.010989 | 0.089011 | -0.08901 | 0.410989 |
| 0.090909 | 0.011111 | 0.079798 | -0.0798 | 0.420202 |
| 0.083333 | 0.011236 | 0.072097 | -0.0721 | 0.427903 |
| 0.076923 | 0.011364 | 0.065559 | -0.06556 | 0.434441 |
| 0.071429 | 0.011494 | 0.059934 | -0.05993 | 0.440066 |
| 0.066667 | 0.011628 | 0.055039 | -0.05504 | 0.444961 |
| 0.0625 | 0.011765 | 0.050735 | -0.05074 | 0.449265 |
| 0.058824 | 0.011905 | 0.046919 | -0.04692 | 0.453081 |
| 0.055556 | 0.012048 | 0.043507 | -0.04351 | 0.456493 |
| 0.052632 | 0.012195 | 0.040436 | -0.04044 | 0.459564 |
| 0.05 | 0.012346 | 0.037654 | -0.03765 | 0.462346 |
| 0.047619 | 0.0125 | 0.035119 | -0.03512 | 0.464881 |
| 0.045455 | 0.012658 | 0.032796 | -0.0328 | 0.467204 |
| 0.043478 | 0.012821 | 0.030658 | -0.03066 | 0.469342 |
| 0.041667 | 0.012987 | 0.02868 | -0.02868 | 0.47132 |
| 0.04 | 0.013158 | 0.026842 | -0.02684 | 0.473158 |
| 0.038462 | 0.013333 | 0.025128 | -0.02513 | 0.474872 |
| 0.037037 | 0.013514 | 0.023524 | -0.02352 | 0.476476 |
| 0.035714 | 0.013699 | 0.022016 | -0.02202 | 0.477984 |
| 0.034483 | 0.013889 | 0.020594 | -0.02059 | 0.479406 |
| 0.033333 | 0.014085 | 0.019249 | -0.01925 | 0.480751 |
| 0.032258 | 0.014286 | 0.017972 | -0.01797 | 0.482028 |
| 0.03125 | 0.014493 | 0.016757 | -0.01676 | 0.483243 |
| 0.030303 | 0.014706 | 0.015597 | -0.0156 | 0.484403 |
| 0.029412 | 0.014925 | 0.014486 | -0.01449 | 0.485514 |
| 0.028571 | 0.015152 | 0.01342 | -0.01342 | 0.48658 |
| 0.027778 | 0.015385 | 0.012393 | -0.01239 | 0.487607 |
| 0.027027 | 0.015625 | 0.011402 | -0.0114 | 0.488598 |
| 0.026316 | 0.015873 | 0.010443 | -0.01044 | 0.489557 |
| 0.025641 | 0.016129 | 0.009512 | -0.00951 | 0.490488 |
| 0.025 | 0.016393 | 0.008607 | -0.00861 | 0.491393 |
| 0.02439 | 0.016667 | 0.007724 | -0.00772 | 0.492276 |
| 0.02381 | 0.016949 | 0.00686 | -0.00686 | 0.49314 |
| 0.023256 | 0.017241 | 0.006014 | -0.00601 | 0.493986 |
| 0.022727 | 0.017544 | 0.005183 | -0.00518 | 0.494817 |
| 0.022222 | 0.017857 | 0.004365 | -0.00437 | 0.495635 |
| 0.021739 | 0.018182 | 0.003557 | -0.00356 | 0.496443 |
| 0.021277 | 0.018519 | 0.002758 | -0.00276 | 0.497242 |
| 0.020833 | 0.018868 | 0.001965 | -0.00197 | 0.498035 |
| 0.020408 | 0.019231 | 0.001177 | -0.00118 | 0.498823 |
| 0.02 | 0.019608 | 0.000392 | -0.00039 | 0.499608 |
| 0.019608 | 0.02 | -0.00039 | 0.00039 | 0.50039 |
| 0.019231 | 0.020408 | -0.00118 | 0.00118 | 0.50118 |
| 0.018868 | 0.020833 | -0.00197 | 0.00197 | 0.50197 |
| 0.018519 | 0.021277 | -0.00276 | 0.00276 | 0.50276 |
| 0.018182 | 0.021739 | -0.00356 | 0.00356 | 0.50356 |
| 0.017857 | 0.022222 | -0.00437 | 0.00437 | 0.50437 |
| 0.017544 | 0.022727 | -0.00518 | 0.00518 | 0.50518 |
| 0.017241 | 0.023256 | -0.00601 | 0.00601 | 0.50601 |
| 0.016949 | 0.02381 | -0.00686 | 0.00686 | 0.50686 |
| 0.016667 | 0.02439 | -0.00772 | 0.00772 | 0.50772 |
| 0.016393 | 0.025 | -0.00861 | 0.00861 | 0.50861 |
| 0.016129 | 0.025641 | -0.00951 | 0.00951 | 0.50951 |
| 0.015873 | 0.026316 | -0.01044 | 0.01044 | 0.51044 |
| 0.015625 | 0.027027 | -0.0114 | 0.0114 | 0.5114 |
| 0.015385 | 0.027778 | -0.01239 | 0.01239 | 0.51239 |
| 0.015152 | 0.028571 | -0.01342 | 0.01342 | 0.51342 |
| 0.014925 | 0.029412 | -0.01449 | 0.01449 | 0.51449 |
| 0.014706 | 0.030303 | -0.0156 | 0.0156 | 0.5156 |
| 0.014493 | 0.03125 | -0.01676 | 0.01676 | 0.51676 |
| 0.014286 | 0.032258 | -0.01797 | 0.01797 | 0.51797 |
| 0.014085 | 0.033333 | -0.01925 | 0.01925 | 0.51925 |
| 0.013889 | 0.034483 | -0.02059 | 0.02059 | 0.52059 |
| 0.013699 | 0.035714 | -0.02202 | 0.02202 | 0.52202 |
| 0.013514 | 0.037037 | -0.02352 | 0.02352 | 0.52352 |
| 0.013333 | 0.038462 | -0.02513 | 0.02513 | 0.52513 |
| 0.013158 | 0.04 | -0.02684 | 0.02684 | 0.52684 |
| 0.012987 | 0.041667 | -0.02868 | 0.02868 | 0.52868 |
| 0.012821 | 0.043478 | -0.03066 | 0.03066 | 0.53066 |
| 0.012658 | 0.045455 | -0.0328 | 0.0328 | 0.5328 |
| 0.0125 | 0.047619 | -0.03512 | 0.03512 | 0.53512 |
| 0.012346 | 0.05 | -0.03765 | 0.03765 | 0.53765 |
| 0.012195 | 0.052632 | -0.04044 | 0.04044 | 0.54044 |
| 0.012048 | 0.055556 | -0.04351 | 0.04351 | 0.54351 |
| 0.011905 | 0.058824 | -0.04692 | 0.04692 | 0.54692 |
| 0.011765 | 0.0625 | -0.05074 | 0.05074 | 0.55074 |
| 0.011628 | 0.066667 | -0.05504 | 0.05504 | 0.55504 |
| 0.011494 | 0.071429 | -0.05993 | 0.05993 | 0.55993 |
| 0.011364 | 0.076923 | -0.06556 | 0.06556 | 0.56556 |
| 0.011236 | 0.083333 | -0.0721 | 0.0721 | 0.5721 |
| 0.011111 | 0.090909 | -0.0798 | 0.0798 | 0.5798 |
| 0.010989 | 0.1 | -0.08901 | 0.08901 | 0.58901 |
| 0.01087 | 0.111111 | -0.10024 | 0.10024 | 0.60024 |
| 0.010753 | 0.125 | -0.11425 | 0.11425 | 0.61425 |
| 0.010638 | 0.142857 | -0.13222 | 0.13222 | 0.63222 |
| 0.010526 | 0.166667 | -0.15614 | 0.15614 | 0.65614 |
| 0.010417 | 0.2 | -0.18958 | 0.18958 | 0.68958 |
| 0.010309 | 0.25 | -0.23969 | 0.23969 | 0.73969 |
| 0.010204 | 0.333333 | -0.32313 | 0.32313 | 0.82313 |
| 0.010101 | 0.5 | -0.4899 | 0.4899 | 0.9899 |
| 0.01 | 1 | -0.99 | 0.99 | 1.49 |